Are you concerned about the security of your company's data and need protection? Are you in need of regulatory data compliance such as HIPPA, DFARS, or PCI?
What Are Managed Services?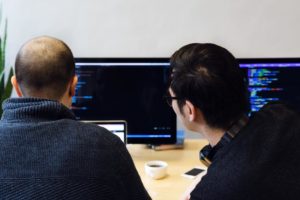 We handle all your IT operations for one fixed, monthly rate. No hidden costs and no surprises!
Peace of Mind: We monitor your network 24/7//365, update your servers, patch your workstations, backup your critical files, and protect your network from viruses, hackers, and ransomware.
Focus on your core business, not technology: We take care of your vendors, technology planning, alignment, purchasing and we provide you with strategic business reviews so you can see exactly what your technology is doing for you.
Better performance, fewer headaches, and virtually zero downtime: We keep an eye on all of your critical business systems and keep them from degrading over time ensuring performance of your network stays current and reliable.
Welcome to the Alpha & Omega Foundation Program
A process-driven and cost-effective network and cybersecurity management program, with a predictable fixed monthly cost. 
This program is designed to dramatically reduce or eliminate computer problems in your business while maximizing your network's speed, performance, security, and stability without the expense of a full-time IT staff!
The Foundation program is ideal for business owners who:
Need to have their computer network, email, database, and Internet access up and running 24/7/365 without problems.
Value the security of their data and want to do everything possible to prevent loss, corruption, or theft.
Want to maximize the speed, availability, and performance of their network.
Hate dealing with--or thinking about--computer problems and other complexities of operating a computer network.
Don't have the time or staff to deal with computer network maintenance.
Want technology to support their business goals to get the competitive advantage.
Desire a predictable fixed monthly cost.
We believe that businesses want and deserve great IT!