Easily Manage Hosted Desktops – Built-in Reliability, Security, and Backups
Hosted Virtual Desktop Services – Inexpensive, flexible and secure. 
Desktop as a Service (DaaS) provides a useful solution that can bring greater flexibility and cost savings to organizations. At a time when companies of all sizes are looking for ways to reduce the need for IT to maintain large numbers of centralized servers, workstations and component heavy PCs and as virtualization has become a mature solution to reduce costs, Desktop as a Service has now become a new frontier offering additional benefits and cost savings to organizations.
Alpha & Omega's Hosted Desktop-as-a-Service solutions use the latest technologies for virtualization from two top vendors.
What is DaaS?
DaaS offers a virtual desktop infrastructure (VDI) that is hosted by a cloud service provider and is usually based on a monthly subscription fee model. Service providers such as Alpha & Omega are responsible for managing the cloud and the underlining architecture.
Which Types Of Organizations Are Right For DaaS?
DaaS is typically best for small and medium sized organizations  (SMBs) that require quality IT services but lack the budget for full time IT system and network administrators to implement on site virtual desktop solutions, especially where BYOD (Bring Your Own Device) and being able to connect to work resources from anywhere is important.
Other industries and businesses that can benefit greatly from DaaS solutions and services are startups and companies employing either a large number of seasonal workers or those with high turnover, or firms that require a sizable portion of their employees to be in the field or a significant number of remote users.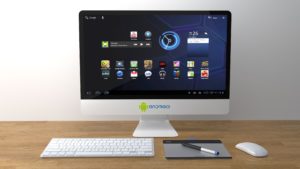 Benefits of Alpha & Omega DaaS Services:
IT departments don't have to worry about managing virtual infrastructure as this is handled by the service provider.
Additional savings can be realized in organizations that accommodate BYOD.
Since company data is no longer stored on employee computers/devices it is therefore no subject to theft, viruses, malware and other security issues.
The local device is only a window into the remote experience reducing the cost of hardware associated with running specific applications that otherwise might require more powerful systems.
Why Choose Alpha & Omega DaaS Solutions?
Install your own business software
Access from anywhere on a browser
Reduce investments and costs
Data stays backed up securely in the cloud