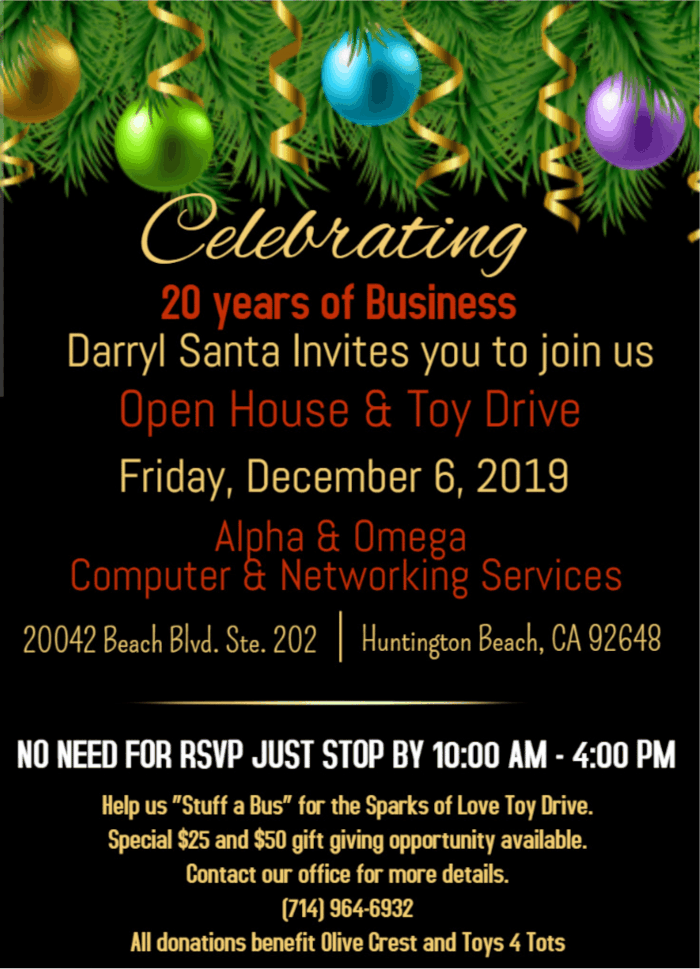 2019 Holiday Open House & Toy Drive
Alpha & Omega is celebrating 20 years of excellence in IT support and we would like to honor our friends, family and clients who have helped us achieve this great accomplishment.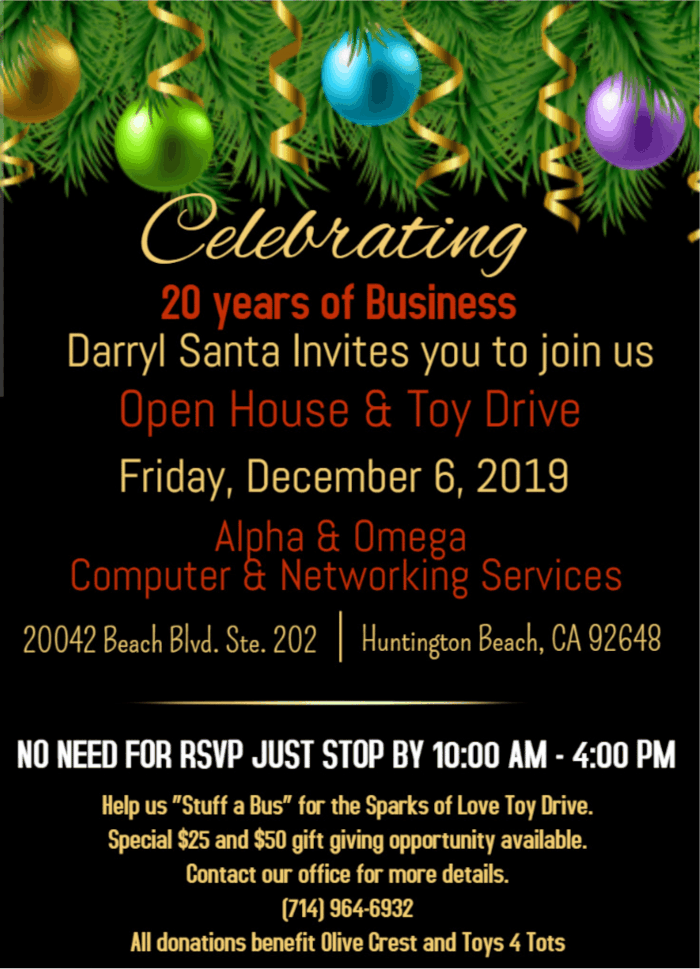 On December 6, 2019 we are celebrating with an open house reception and toy drive. Come by any time between 10:00 am and 4:00 pm for food, fun and fellowship.
In the spirit of the holidays please partner with us by helping Darryl Santa stuff his VW Bus full of toys to benefit Olive Crest and Toys 4 Tots. There are three ways to give and we've made it simple for you. Please go to the following link to make your selection.
Alpha & Omega Toy Drive Link: https://forms.gle/pcux2NrXAqdpA7yz8
Giving Option 1 - Bring one or more unwrapped toys to the Open House Celebration
Giving Option 2 - Order one or more toys through amazon and have it directly delivered to the office before December 6th.
Giving Option 3 - Be a miracle giver to an Olive Crest child by buying a specific gift for $25 or $50. We will email the request to you. Your miracle gift(s) can be delivered directly to the office or brought to the Open House Celebration.
Please make your selection by going to the Alpha & Omega Toy Drive Link above. Attached is a flyer to share and post in the office. We appreciate and value our relationship with you and look forward to providing continued quality IT support in the future. If you have any questions or need assistance with the Alpha & Omega Toy Drive process, please feel free to reach out to me.
Check out our 2018 Open House and Toy Drive
Kind Regards,
Darryl Santa
President & CEO
If you have any question please contact,
Imani Harris
Administrator
714 965-6932 X102
Imani.Harris@aobiz.com