We specialize in comprehensive information technology management, support, and security services for the Local and Federal Government.
Alpha & Omega Computer & Network Services, Inc. stands ready to aid in the fulfillment of your agencies mission goals by placing at your disposal expansive years of experience in the IT industry. Whether helping to guarantee a safe, secure and resilient homeland, maintain technical superiority, or safeguarding and guaranteeing the availability and integrity of command-&-control critical systems, Alpha & Omega will meet and exceed your specific needs.
Alpha & Omega provides a full range of sustainment support programs, vulnerability assessments and technology planning & design services that help evaluate potential threats to networks, buildings, facilities and installations, define technology needs, and design layered defensive systems that ensure force protection, personnel safety, building integrity, and equipment and records protection.
We have successfully worked with the following organizations:
Serco, Inc.
SAIC (Science Applications International Corporation)
SPAWAR Systems Center Pacific
DHS S&T (Department of Homeland Security Science & Technology)
United States Coast Guard (USCG) Sector Command Center (SCC) Los Angeles/Long Beach
Los Angeles Port Pilots
Long Beach Joint Command & Control Center
Jacobsen Pilot Service, Inc.
International Seafarers Center
Riverside Sheriff Department
CBP (Customs and Border Protection)
AMOC (Air and Marine Operations Center)
Los Angeles Port Authorities
Long Beach Port
We have had the pleasure of working with several Maritime Captains: Captain Manny Aschemeyer, Captain Richard McKenna, Captain Kip Louttit, Captain Jay Dwyer.
"Alpha & Omega does their job so well that it's not in the top few things I worry about on a day to day basis."
What sets Alpha & Omega apart are their superlative expertise and superior ability to work in a complicated IT environment that is interconnected with many port business partners and government agencies. Marine Exchange provides vessel traffic services and maritime information services to the largest 2 container ports in the United States. We operate 24/7/365 to direct the vessel traffic movement of approximately 4,600 ships per year, of which 47% are container ships. Alpha & Omega is better than any other firm I've worked with to ensure there is little or no impact to our operations. They have the expertise needed to keep up with all of the technology changes, growing cyber threats and provide business consulting to help guide our technology decisions and investments. Alpha & Omega does their job so well that it's not in the top few things I worry about on a day to day basis.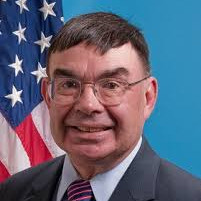 CAPT J. Kip Louttit, USCG-Ret.
Executive Director
Marine Exchange